Damaged hair requires special care. Keratin hair masks ensure that. However, not every keratin mask guarantees success and you need the one having the finest ingredients so that it works best. You can try one of the top 5 keratin masks we share below. Will you find your favorite?
No matter if your hair is extremely damaged or just getting weaker, keratin is a remedy anytime. The reason is very simple: hair is made from keratin so it rebuilds and strengthens it best. Let's see how to deliver its optimal amount to enjoy lovely hair.
Keratin repair. Masks or salon treatments?
There are different ways to fix your hair using keratin. You can either try doing it at home or entrust yourself to an expert.
Keratin hair smoothing treatment repairs, strengthens and smoothes hair with a preparation based on keratin molecules. It is applied by a professional hairdresser and takes lots of time. Plus, the price of keratin smoothing treatment is very high.
Keratin hair mask is a budget-friendly alternative for expensive in-salon treatments. You can use it easily at home to strengthen and revitalize the hair, making it more resilient. A fine-quality keratin-based mask additionally gives smoothness, shine and protection. It's easier on the pocket yet requires regular application.
Keratin Hair Mask: Your New Must-Have!
If you've got damaged hair, you need to try the effect of a keratin hair mask. Not only is it cheaper and fit for use at home but also works great. Just a few uses are very likely to make you see the difference and repair your ruined hair. Keratin smoothing treatment will be needless because a keratin hair mask alone:
repairs damage inside of hair.
strengthens the external layer of hair and makes it smoother.
prevents future damage.
adds softness and resilience.
restores shine and enhances hair color.
minimizes splitting ends.
controls frizz and static flyaways.
The Best Keratin Hair Masks [TOP 5]
What should you choose for a start? Which keratin mask is the best? Which one provides damaged hair with maximum enhancement? We've got the answers to the most common questions and here they are – five best keratin hair masks. Choose one and find your favorite product to repair hair at home. With it, keratin therapy is easy and gives effects that will surprise you.
(1) Keratin mask for damaged hair by Nanoil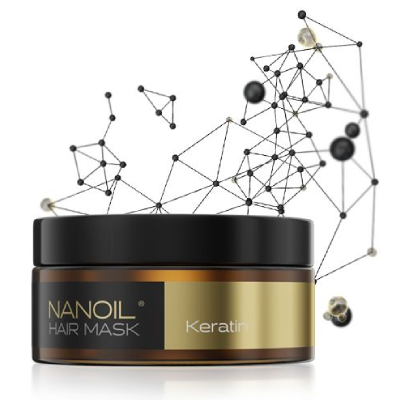 Keratin hair mask by Nanoil is a good choice for anyone who thinks the product's effectiveness is the most important. The lightweight mask envelopes the hair and brings benefits from the first use: it leaves hair sleek, highlights the gloss and makes hair easier to detangle. Hydrolyzed keratin is the major ingredient and is paired with panthenol which improves both the condition and appearance of hair. The Nanoil keratin hair mask has a repairing effect, reinforces the hair and makes it more resilient, as well as holds back future damage. It banishes frizz, split ends and thinning hair. Do you like this scenario? You can realize it by choosing Nanoil Keratin Hair Mask: the best mask for damaged, dry, brittle, frizzy and splitting hair.
Product details:
lightweight, non-overburdening formulation
effects from the first use
simple formula high in keratin
repair of inner layers and protection for external coating
recommended for dry, brittle hair
(2) Keune Care Keratin Hair Mask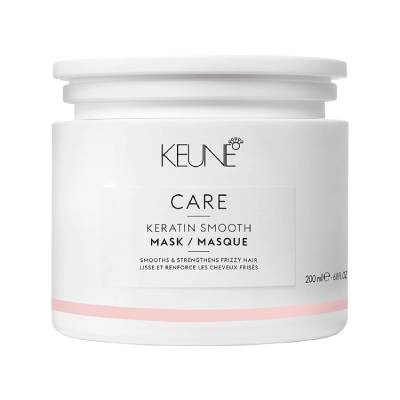 One of the most interesting and expensive keratin hair masks is the one from Keune. Despite its large size, it doesn't last long because it's quite thick. The mask contains keratin and pro-vitamin B5 but there's more in the formula: shea butter and Quat Complex, which is a set of ingredients that protect against heat styling damage. The Keune mask is recommended for damaged, frizzy and dry hair because it strengthens, revitalizes and prevents loss of necessary moisture. Naturally, to get the effect, it must be used regularly after every hair wash (left in for 2-3 minutes).
Product details:
one of the most expensive keratin masks
unique nourishing Quat Complex
recommended for dry, damaged hair
large-sized, quite thick
(3) Goldwell Kerasilk Mask rich in keratin and liquid silk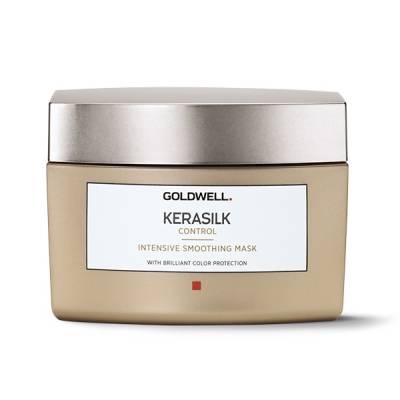 Another keratin-based mask for damaged hair. Apart from keratin, Goldwell Kerasilk contains liquid silk, which is another essential protein for hair. They both have a good effect on hair, making it stronger, smoother and revived. Easier brushing and better-looking hair is the result. Obviously, the keratin mask doesn't only help you style unruly hair but also has a strengthening effect on weak strands. You just need regular application on damp hair, letting it sit for 5-10 minutes. The product has some bad sides too (small size, high price).
Product details:
intensive smoothing effect
made for taming unruly hair
based on two ingredients: keratin and silk
small size, it doesn't last long
(4) Wella SP Luxe Oil Keratin Restore Hair Mask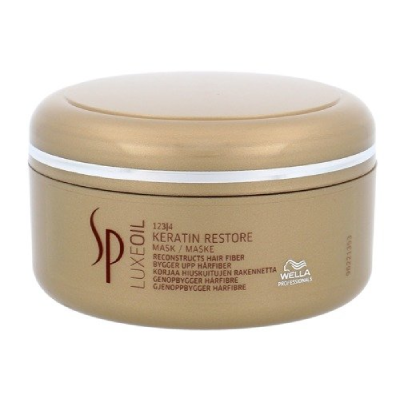 The roundup of top keratin masks must include the one from a salon brand, Wella. This is another mask based on keratin but containing other ingredients too. Similarly to other products from the Wella SP Luxe Oil, this mask also contains a complex of oils, including jojoba oil, sunflower oil and argan oil, and that's why it has a greasy texture and may be overburdening, e.g. for fine hair. Still, if you use it according to directions and apply the right amount regularly, it does strengthen and repair the hair. It also brings shine, softness and a lovely look back.
Product details:
slightly larger than other masks
based on liquid keratin
formula enriched with oils
strengthening, repair, elasticity
(5) Phyto Phytokeratine Extreme Keratin Hair Mask
Phyto Phytokeratine Extreme is a good choice for fine, dull, dry or damaged hair, and even for sensitive scalp. It's one of the most expensive but also interesting masks as far as components go. It isn't a typical keratin mask because the formula abounds in baobab oil, sapote butter and shea butter. Keratin is derived from plants and imitates natural keratin that hair is built of. Definitely it's an interesting product to try on damaged hair to repair, nourish and smooth it out.
Product details:
based on plant keratin made from 18 amino acids
rich in oils, e.g. baobab oil, shea butter, sapote butter
recommended for fine, dry or dull hair
one of the smallest and priciest masks