Are you bothered by very thin and barely-there eyebrows? Nanobrow Microblading Pen is designed for those who want the most natural-looking effect of thicker and bolder brows – without appointments at a beauty salon. You don't need to decide on microbladed brows. With this cosmetic, you will achieve the same effect and it will last for 24 hours! See what's worth knowing about brow pens and makeup.
Nanobrow Microblading Pen – what does it do?
The ultra-thin tip draws hair-like lines.
It fills empty spots in brows.
It gives brows an intense color.
It makes the brows appear thicker.
It creates a microblading effect.
It stays put for 24 hours.
Nanobrow Microblading Pen is a brow product which is extremely popular among those with sparse brows. Thanks to the precise applicator, intense pigments and waterproof formula, we can easily get brows that look as if microbladed. This pen gives us a chance of getting bolder arches, camouflaging sparse spots and adding color using the microblading method as an inspiration.
Nanobrow Microblading Pen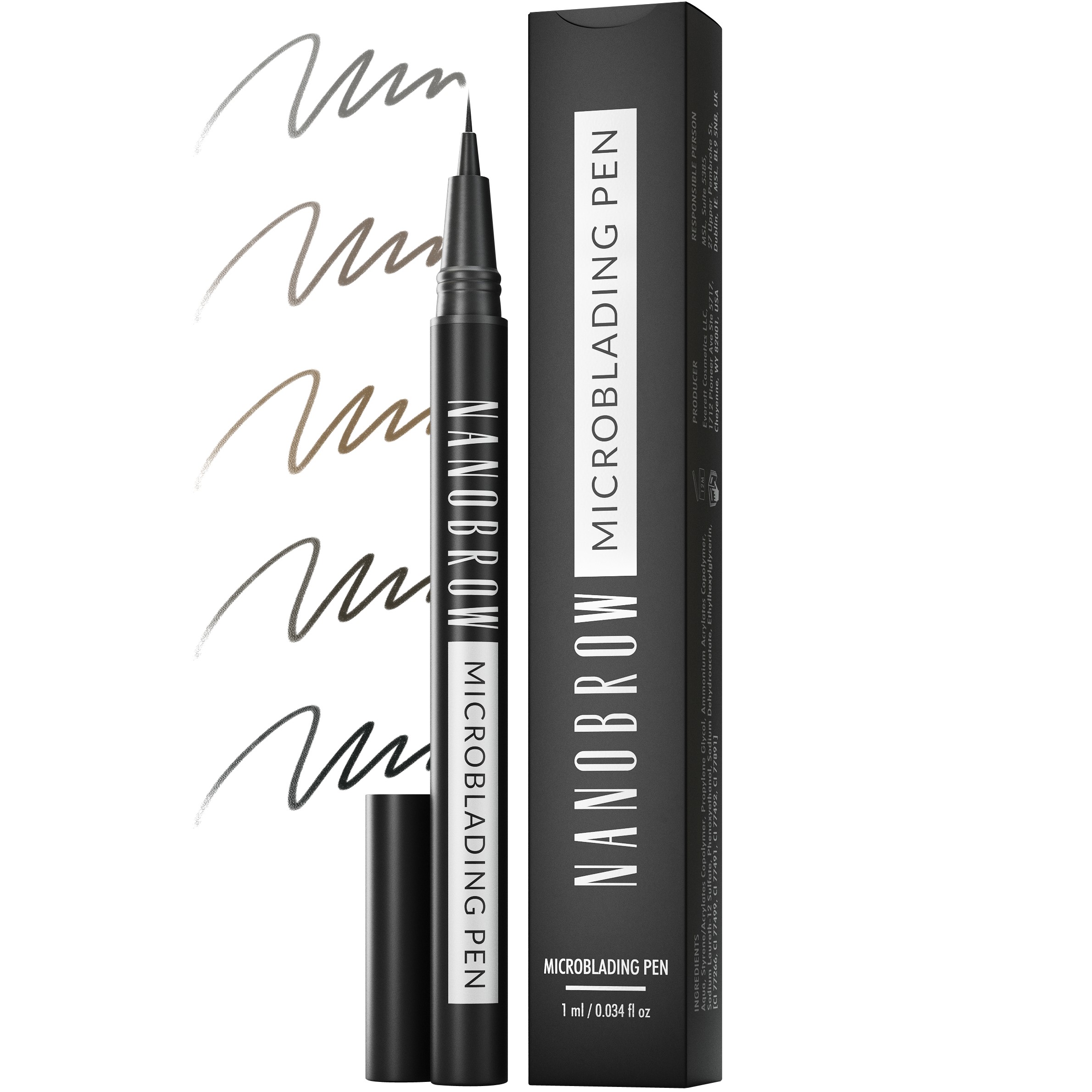 Product available in colors:
Target group
The brow pen by Nanobrow is a fantastic alternative to brow tattooing. The waterproof pigment stays on skin for 24 hours, guaranteeing flawless brow makeup. A brow pencil or pomade won't match it in its precision.The ultra-thin tip draws lines that are easily mistaken for real hairs. Nanobrow Microbaling Pen makes people give up the idea of permanent makeup. It's a safe and non-invasive way for filling in brows and creating a microblading effect.
What's microblading? Also called microfeathering, microblading is a manual technique of applying permanent brow makeup. It involves creating micro-cuts in the epidermis and inserting the pigment. Permanent makeup which is done using the microblading method can imitate real hairs allowing for very subtle effects.
Go for the Nanobrow –

presision brow pen

if:
you want to have symmetric, precisely-shaped brows
there are visible gaps in your brows and hairs won't regrow
you want to reconstruct brows that have been lost because of an illness
your brows are naturally thin and barely visible and you want natural definition
How to use the

waterproof brow pen

?
Hold the pen horizontally so that it softly touches the skin surface. Now use a few quick strokes upwards. Draw the lines following the direction of hair growth. Start from the lower brow line. Fill in sparse areas. Feel free to build the intensity of color or thickness by drawing more lines. Learn more about the product: www.nanobrow.us