Can miniature camera help you protect against skin cancer caused by often sunbathe? As it turns out, it can. We are talking about Sunscreenr, gadget created thanks to funds collected via Kickstarter. See for yourself if that tiny device can help you.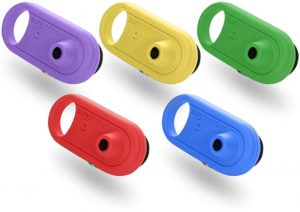 Creams with sun filter, tinted glass, hats – contrary to appearances, those things do not truly protect you against sun burns and skin cancer. There may be going on disturbing things on your face, which you cannot notice with bare eye. To deal with them in advance, supply yourself with Sunscreenr camera, which records UV radiation. Thanks to this feature, on short video you can see which parts of face and body are being protected. Those will be the darker areas on skin. You can observe results with built-in viewfinder.
Creators of this camera thought of individual needs of Sunscreenr users. With the set comes a trivet; for charge is used USB connector. One-time charge of battery lasts for few days of use. Sunscreenr is waterproof and sand proof; the camera is portable. Therefore, you can take it to the beach and in every travel. The device will be available in December 2016, but currently it can be purchase in pre-order. People who particularly care about their health will surly buy Sunscreenr.
Why is protection against sun radiation so important? Various studies confirm that UV radiation causes significant skin damage, like: wrinkles, discolourations and dryness. In many cases it leads to skin cancer. It is a malignant tumour, which usually affects elderly people. Skin cancer is being treated surgically and with application of expensive and very often weakening organism medication. Instead of undergoing difficult treatment, it is better to take care of skin and protect it with sun filter creams. And places where those preparations should be applied will indicate Sunscreenr.