Always coarse and frizzy hair? Extremely dry skin? Many times, widely-available drugstore face creams or hair conditioners prove not enough. And here's when castor oil comes to the rescue. Not just any oil though. Nanoil supplies pure oil from the beans of castor plant (Ricinus Communis). It is lightweight, sinks in quickly, and doesn't leave any heavy feel on the skin. Keep reading for more details!
Nanoil Castor Oil – new beauty best-seller
Castor bean oil is one of very few oils with a great range of uses. Recently the product made a comeback and is one of women's favorites again. However, you can forget the thick and heavy castor oils from pharmacies. More and more beauty brands offer more user-friendly formulas which are also eco-friendly and nice to apply. Nanoil sells perfect formulas which are rated by the most fussy beauty freaks. The brand's castor oil is hot stuff and we know that because we've run through the glowing reviews. Nanoil Castor Oil is a foolproof product for daily beauty routine.
Why choose castor oil by Nanoil? Each drop houses the essence of beneficial substances that are found in castor beans. Inspired by nature, the product has been made so as to go well with all types of skin and hair. It is consumers' top choice.
Nanoil Castor Oil is thick but it feels light, sinks in quickly, and is comfortable to use on skin, hair or nails.
It is a 100 percent natural, organic formula whose top quality is confirmed by the Ecocert mark. Good for vegans and vegetarians.
It comes in a comfortable, glass bottle which is great news for fans of eco-friendly cosmetics.
It has a dropper applicator so you can use the amount of oil that's just right.
It comes in a large bottle and has a great price.
Nanoil castor oil – uses
Castor oil is mostly made up of valuable fatty acids, including ricinoleic acid which ensures skin, hair and nail health. It fulfills many functions, for example balances the functioning of sebum glands, maintains skin health on the outside and from within, plus repairs natural hydro-lipid barrier, and holds water in the epidermis.
Nanoil Castor Oil is high in vitamins A and E which guarantee strong anti-wrinkle and anti-oxidation effects. They also stimulate boosted production of collagen and elastin which are the base of healthy skin. The combo of vitamins is a remedy for limp, dull skin and uneven skin tone.
The oil is also an ally when you want to battle cellulite, stretch marks or scars. Because its structure is similar to keratin found in the human body, castor oil penetrates the skin and repairs elastin fibers – when they're damaged, the skin shows stretch marks. The oil instantly leaves the skin nourished and soft. If you use it for a body massage regularly, we guarantee you'll get rid of orange peel.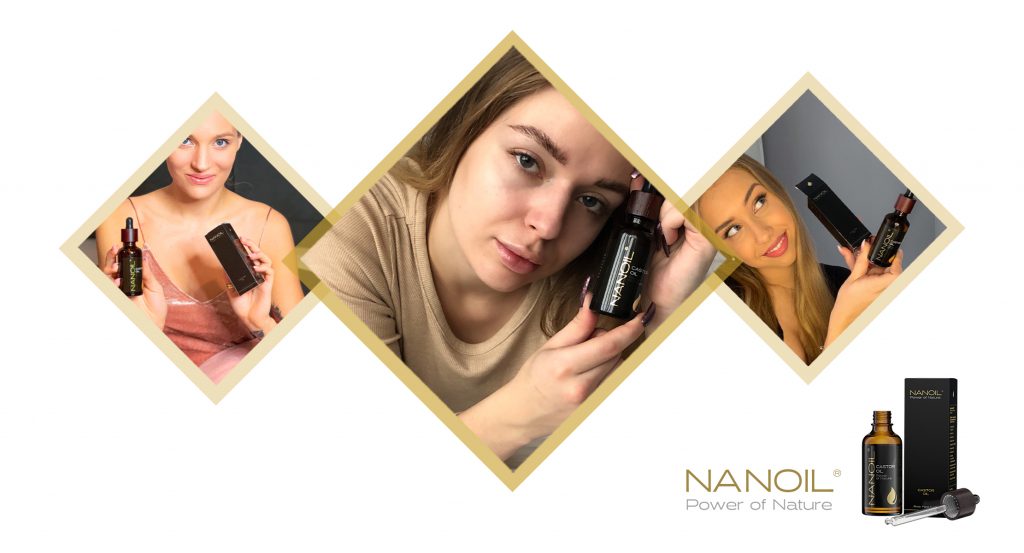 Feel free to use Nanoil Castor Oil directly on clean skin of the face and body, add it to your favorite products and as a deep repair mask-serum for damaged hair. It is also a superb alternative to expensive eyelash and eyebrow serums. Use it in your daily routine to handle cracked skin on the hands, brittle nails and all ragged cuticles around them.
With Nanoil Castor Oil your beauty routine will bring only benefits. Visit www.nanoil.us and check out other natural beauty oils!