The valuable caring properties and incredible effects of honey have been known for ages. It improves the hydration of the skin, reduces sebum secretion, and protects against environmental factors. Choose beauty! Go for Ghasel Maltese Honey Body Cream, a remarkable skin care product.
Maltese Honey Body Cream cares for the beauty of your skin
Did you know that Maltese honey has unique properties? It's an unmatched antibacterial and anti-inflammatory product that firms the body, smooths wrinkles, and gives a lot of firmness. Its anti-aging qualities are valued by many skincare brands and consumers around the world.
One of the ingredients of the cream is avocado oil, a source of precious vitamins. It prevents the drying of the epidermis and nourishes it intensely. Marshmallow plant extract improves the skin's hydration levels and protects it against irritation. Horse chestnut extract is full of flavonoids, mineral salts, and vitamins that strengthen blood vessels.
Shea butter regenerates and smooths the skin, reinforcing its hydrolipidic barrier. It prevents premature aging and the loss of firmness. Another component of the Ghasel Maltese Honey Body Cream is calendula extract that effectively eliminates rough skin, softening and hydrating it deeply. Vitamins E and B12 tighten the body and help reduce wrinkles. They also promote collagen and elastin production and support the skin in the fight against free radicals.
Is Ghasel Maltese Honey Body Cream right for me?
The product will easily adapt to every skin type's needs. It ensures:
long-term, 24-hour hydration,
soft, smooth and firm skin,
no wrinkles, cellulite, or stretch marks,
100% comfort of using and lightweight formula,
deep regeneration even extremely dry skin.
You will not find any preservatives, parabens, GMOs, or silicones in the composition of the Ghasel cream. The product knows what your skin needs very well. It absorbs quickly, leaving the body perfectly soft and smooth. If you use it every day, you can say goodbye to burdensome orange peel and stretch marks forever.
Maltese Honey Body Cream offers the best care you can dream of. You must feel the delicate honey scent combined with the effectiveness of the cream due to its specially-selected composition brings infinite benefits.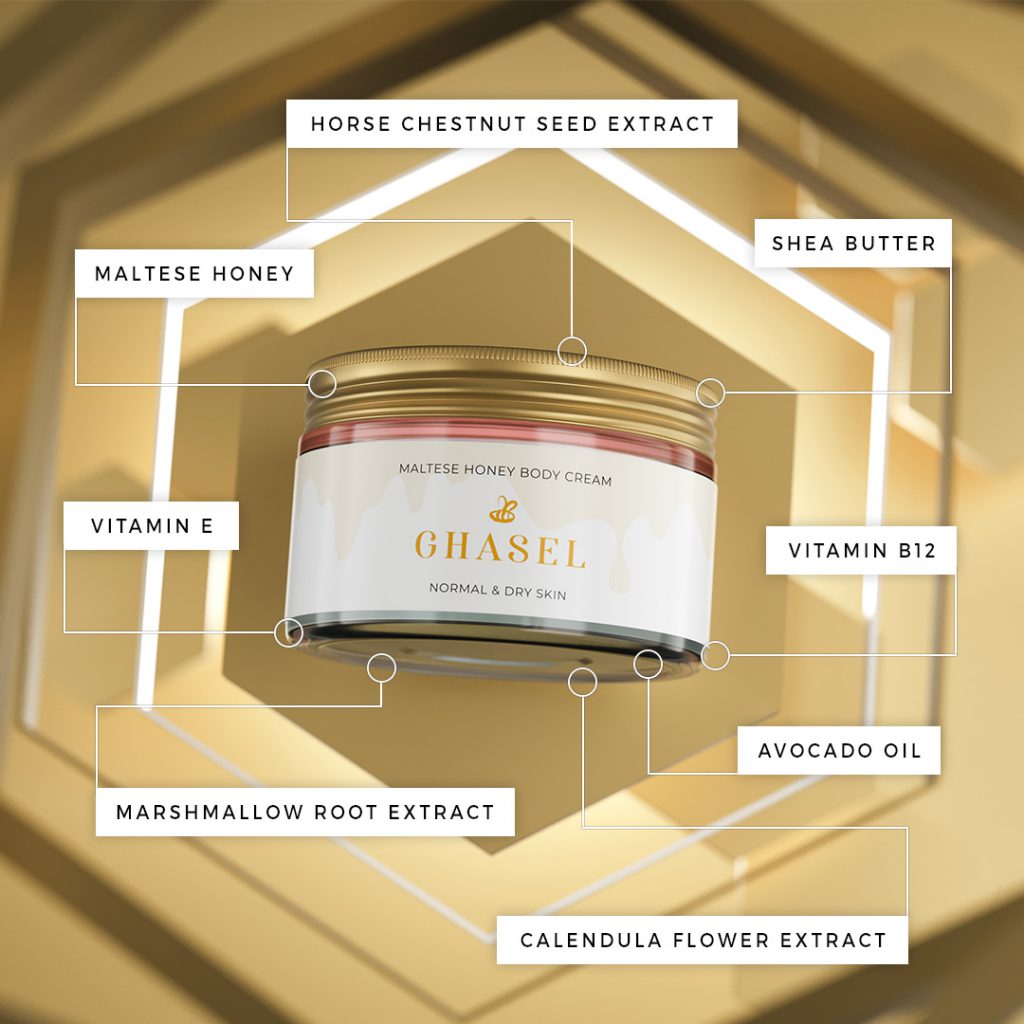 Choose Maltese Honey Body Cream!
Provide yourself with a comforting, relaxing session and make time for a skin massage, rub the nourishing and hydrating Ghasel cosmetic into your skin with circular movements. This way, your skin will quickly become resistant to adverse external factors and free radicals.
Feel beauty with Ghasel! It's full of natural ingredients and it's great for every skin type. It brings relief and long-term hydration so you can forget about dry, dull skin, stretch marks, and cellulite.
Don't hesitate! Treat yourself to what's best for your skin and choose Ghasel Maltese Honey Body Cream! Visit ghasel.mt