Literally everyone has heard of argan oil. This Moroccan oil is so popular that we can't imagine our hair oil treatment or face care without it. Still, we must know which argan oil to pick for the best conditioning and protective effects.
A decision to incorporate natural oils into a beauty routine is the best decision you can take. Choosing argan oil for this purpose is also a great idea because it boasts one of the highest concentrations of nutrients and the most versatile performance.
Secrets of argan oil
Original argan oil comes from Morocco, the place where Argan trees are grown and used for extraction of the oil. Argania spinosa is put on the UNESCO World Heritage List as an endemic species (cannot be found anywhere else). So, while searching for good argan oil, checking its origin should be the first thing you do.
Traditional method of extraction is pressing the oil from the argan nuts manually but mechanical extraction is getting more and more popular. The key thing is the oil is cold-pressed so as to keep the biggest amount of nutritional ingredients.
A high-quality argan oil – cold-pressed, unrefined, pure – is very high in beneficial unsaturated fatty acids (EFAs) from omega-3 and omega-6 groups. The formula is even richer, though. Argan oil is packed with vitamins (including vitamin E, strong antioxidant), plant sterols, minerals and natural UV filter.
It's no wonder then that this mild, goldish oil smelling of nuts is a beauty best-seller and is still growing in popularity. Using it simply pays off.
Beauty benefits of argan oil
As far as hair goes, argan oil is usually used for deep-conditioning oil treatment on damaged, dry and unruly hair. Because it is lightweight, it doesn't weigh hair down. Plus it's effective, nourishing, strengthening and repairing inner hair layers. Girls like to use it while heat styling because the oil tames as well as smoothes the hair, eases combing, prevents frizz and protects against heat damage.
Argan oil is also a popular face-care oil. Naturally, it's greasy so it handles removing (even waterproof) make-up and cleansing the complexion very well. Used instead of a moisturizer or make-up base, it restores radiance and makes the face look flawless: smoothes fine lines, minimizes pigmentation marks, evens out the skin tone, and maintains hydration levels.
There's more to it, though! Organic argan oil is a brilliant nail conditioner or body massage oil – in both cases it repairs, strengthens, adds smoothness and elasticity. Plus, it helps get rid of cellulite and stretch marks.
Which argan oil to choose?
The key thing is which argan oil to pick so that it fulfils all of the roles brilliantly. The effects depend on its quality.
The factors that make up for the argan oil's quality are: its origin (original argan oil comes from Morocco), extraction method (cold-pressed, unrefined oil is best), naturalness (pure, organic argan oil without additives like silicones, parbanes or aromas is a great pick).
It's a good thing to get your oil from the right place: drugstores or supermarkets aren't the best place. We should search for the best beauty oils among famous cosmetics brands.
Round-Up of the Best Argan Oils
We present a list featuring the best argan oils used for beauty purposes and recommended by specialists. The TOP list for those who don't feel like spending hours looking for a perfect product. The following oils are good to have because of producing brilliant effects that you have a chance to enjoy.
NANOIL ARGAN OIL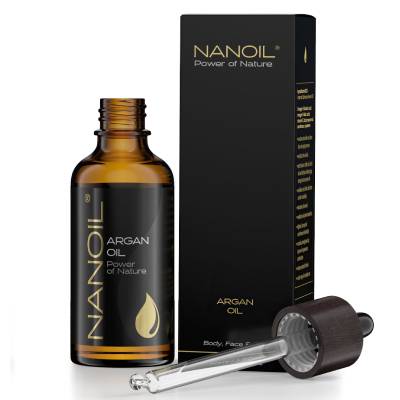 Bottle size: 50 ml (1.69 oz)
Available at www.nanoil.us
This is absolutely the best one out of all argan oils. By choosing Nanoil argan oil, you get powerful nourishment and natural antioxidants in a very elegant bottle and for a very good price. This cold-pressed, unrefined, organic oil extracted from argan nuts can be used for multiple purposes: to enhance the hair, body, face skin and even nails. Applied directly on the skin, it instantly makes it smoother, revitalizes, softens, leaving it silky and glowing. It helps hair repair fully, strengthens it, makes it more resilient and wonderfully shiny. Nanoil Argan Oil is perfect for removing make-up, body massage, hair oil treatment or to keep hair ends from splitting. This is the best hairstyling oil. It works well for beard and moustache care too.
MOROCCANOIL ARGAN OIL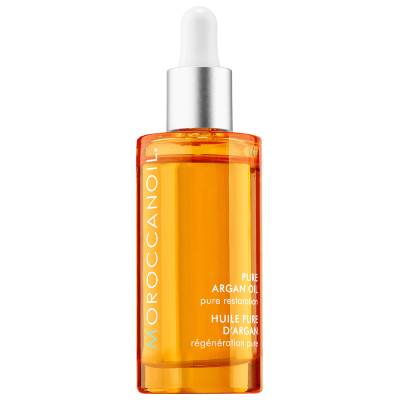 Bottle size: 50 ml (1.69 oz)
Obviously, Moroccanoil is a brand that has lots to do with argan oil. Their products are popular and based on Moroccan argan oil but there is also a treat for those searching for 100% pure argan oil. This cold-pressed, organic oil without additives can be used on body, face and hair. It is lightweight and fast-absorbed, leaving a smooth coating. The oil instantly nourishes, moisturizes and adds shine, but is, at the same time, one of the pricest argan oils. That's why it isn't a best-seller.
SATIN NATUREL ARGAN OIL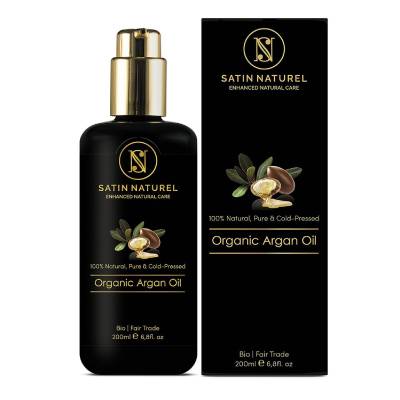 Bottle size: 100/200 ml (3.38/6.76 oz)
Another natural argan oil comes from German brand, Satin Naturel. This eco-friendly oil is cold-pressed and pure, and can be used in plenty of ways: on the hair, face, and body. The good thing is the oil comes in two size versions and with two applicators: atomiser or pump. Satin Naturel is well-absorbed and lightweight. Regular application helps restore natural beauty, smoothness and shine of hair. It's a good choice for those who have dry, weak, brittle hair. Even though it's recommended for a hair-care routine, it's natural so it can be used on the face and body skin freely.
JOSIE MARAN ARGAN OIL
Bottle size: 50 ml (1.69 oz)
Josie Maran is another brand which has launched argan oil: a good quality, cold-pressed, unrefined, pure oil. Unfortunately, this is, at the same time, one of the most expensive argan oils in this ranking. For those who can afford it, the dark glass bottle houses a lightweight, gold-colored oil which works pretty well. It concentrates on improving the hydration, strengthening the hydro-lipid coating and preventing the loss of water. Used on the complexion, it smoothes, nourishes and revitalizes. As far as hair goes, it strengthens, repairs and makes it more resilient. There are no limitations when it comes to usage because the oil is free from synthetics.
THE ORDINARY ARGAN OIL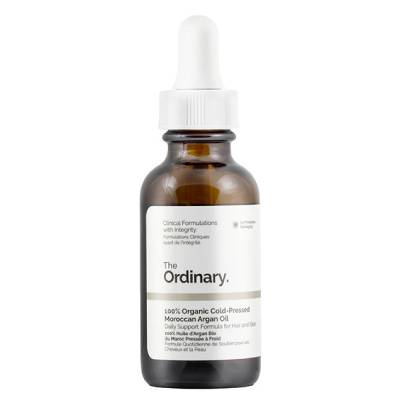 Bottle size: 50 ml (1.69 oz)
Last of all, a brand which has become famous for face-care products. The Ordinary offers pure, cold-pressed, organic argan oil. A goldish oil having a delicate nut aroma comes in a bottle typical of the brand's products. This one-size-fits-all, natural cosmetic works well for everyone. It mostly ramps up hydration levels and protects (not just against dryness but also harmful factors like toxins). It's good to use it on hair for strengthening and easier brushing, and on the nails to make them stronger.